Antisplash flooring

with individual design

UnionMart is pleased to announce Forbo antisplash covering which can be ordered with the pattern of your own on it. Antisplash flooring is usually at the entrance of a building, and applying the company name or a logo will highlight the status.
Ask yourself how often you see such mats with the logo at the entrance to the building? So why not do it yourself? It is not just beautiful, but durable and practical. Moreover, it is quite simple; you need to contact our managers to coordinate color and pattern.
A mat with logo not only looks good, it also brings tangible benefits. Coral is designed on the same standards as all Forbo floorings, which certainly reflects the quality of the product and its excellent technical characteristics. Consider the specific advantages of this collection:
Pleasant impression when entering
Functionality
Attract visitors' attention to your company
Personalize the entrance area
Suitable for internal entrance area and revolving doors
Ideal for areas with heavy load and high traffic
Wide range of colors
Extreme durability
Easy to use, as an insert into larger antisplash systems
A choice of 42 standard colors and additional Pantone and RAL colors
Thanks to the hard substrate, the coating is smooth and does not ride up that saves people from stumbling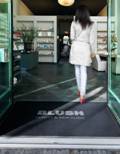 Cleanliness in commercial and industrial premises is not only a part of attractive interior, but also one of the conditions of health security and office equipment care. Wet and dry dirt from the environment harms interior decoration, settles as dust, causing problems for health and work of mechanisms. Latest antisplash Forbo systems reduce the amount of expenses on cleaning and repair up to 65 percent.
Each type of Forbo coatings have special moisture absorbing and cleaning properties, in the development of which their own specialists were engaged. Systems with individual design can always be combined with ordinary collections in any input areas. Mats are created under various different purposes, such as cleaning dirt from outdoor shoes, cleaning the dirt from the wheels of trucks, cleaning the wheels of cars and machinery working in the enterprise.
Contact our managers and get more information about antisplash systems with individual design.