Carpet Skirting

by "Salag"

UnionMart carries out deliveries of carpet skirting produced by the Polish factory "Salag". The factory was established in 1997, and it has been selling its production on the Russian market for more than 6 years. Salag factory products have been patented in many countries and were awarded a Eureka medal at the exhibition of achievements in Brussels in 2005, a bronze medal for innovation in Paris in 2007 and other prizes.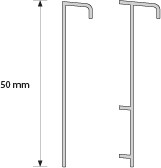 UnionMart offers the following types of skirting by Salag:
- Skirting with cable channel (NG56, NG70)
- Skirting with cable channel and soft edge (SG 48, SG 56, NGF 56)
- Carpet skirting (13 colors), accessories: plugs, connectors, internal and external corners
- Universal elastic corners (internal and external) to connect skirting in the corners more than 90 degrees
- PVC thresholds (floor, ladder).
All skirting collections are completed with textured accessories that perfectly repeat the skirting pattern to make the corners and connections almost invisible. Additionally, Salag skirting is protected with lacquer layer from the mechanical damage.
Our clients